Dear Family,
Today's theme was not planned. By coincindence, the very first two stories I researched this morning are about Orthodox Jewish experiences. In case you didn't know, I was brought up in that community, attending full-time Hebrew or Jewish schools from nursery school all the way back in Hungary to an early admission to Yeshiva University night school while still in high school. Although my life and views are more universal than the cloistered world I grew up in, the emotional and cultural ties are inevitably very strong.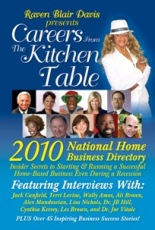 Following up on this theme brings to mind the story of my background included in Raven Blair Davis' new book – Careers from the Kitchen Table – the 2010 Business Directory. It just happens to be tied to this week's anniversary of the Singer sewing machine for home use. You'll need to read page 267 when you pick up your copy of the book. It contains over 50 interviews with people who operate viable businesses from home – and tell you how you can succeed at it, too. You will find it in the Family Member resources next week.
https://taxmama.wpengine.com/quick-look-ups/
Meanwhile, tune in on Saturday at 2 pm – 3 pm CT as several inspirational businessfolk and TaxMama join Raven the Talk Show Maven on https://kikk.cbslocal.com/business/
The big news of the week. The Senate has confirmed Elena Kagan as the newest Supreme Court justice. Kagan has a fascinating background, including a successful conflict resolution as a teenager. It led to the first formal Bat Mitzvah (a feminine version of a Bar Mitzvah)observation in her family's Orthodox synagogue. (Wow. I didn't know that!) Kagan will start in the fall, similar to Jill Clayburgh in "First Monday in October". The big difference is, Elena Kagan will be one of three women Justices on the current Supreme Court. That's historic. Considering that women comprise about half the population, it's nice to see us on 1/3 of the Court.
You can read brief biographies of the current justices, along with those of a few recent retirees. 
https://www.supremecourt.gov/about/biographies.aspx
Before publishing information, articles, even humor or inspiration, I do my best to track down the source of the information. This morning's Money Funny was sent to us Tom Forsyth, one of my EA Class students. What he didn't know was what a special surprise this story turned out to be. This turned into a personal, poignant, experience. Tracing the story via Snopes.com , I found it was an adaptation of a story by Rabbi Pesach Krohn, from his book Echoes of the Maggid . The story was based on something that took place at "CHUSH" – The Jewish Center for Special Education in Brooklyn, N.Y. This is a very special school, the first ever such school for Orthodox Jewish children. It was founded by my cousin Hershl Fried – otherwise known as Rabbi Dr. Aharon Hersch Fried – who has made it his mission to provide a healthy educational opportunity for Jewish special needs children around the world. It made my mother's day when I told her about today's happy discovery.
You will be touched by today's Money Funny and Inspiration – the story about the humanity children are capable of exhibiting. Thanks, Tom for sending this to me.
https://taxmama.wpengine.com/category/asktaxmama/money-funnies/
This morning I got a press release from Jackson Hewitt about IRS's decision to remove the debt indicator from electronically filed tax returns. I am the wrong journalist to send that kind of nonsense to – read TaxMama's editorial about The End of RALs.
https://taxmama.wpengine.com/asktaxmama/the-end-of-rals/
Just a reminder, last week's issue was titled Tax Holidays. I wanted to give you advance notice so you can take advantage of the opportunity not to pay sales taxes on certain of your purchases. The holidays started around the country this week. Look up your state to see if you can save a bit of money on your purchases this weekend.
https://taxmama.wpengine.com/tax-quips/tax-holidays-coming-up/
This month's MarketWatch column outlines some of the new laws that may affect your wallet, and taxes. There have been a lot of laws passed lately – and more to come.
https://www.marketwatch.com/Journalists/Eva_Rosenberg
Other interesting articles on MarketWatch Tax this week include Tips for Summer Workers, Estate Tax Debates, Turn Your Traffic Ticket Into a Deductible Donation – that's a new concept!
https://www.marketwatch.com/taxes
In the Personal Finance area, I found an article about renting textbooks instead of buying them. Sheesh, they ARE getting expensive. We poor, starving students used to buy them and sell them back at a huge loss. Renting makes great sense. Some books were too precious to sell for a mere pittance, so I kept them. Have I looked at them in the last 25 years? Never once! But I have packed them up for moves at least 5 times.
https://www.marketwatch.com/personal-finance
EA Class News
We're nearly done with Part 2 of the exam. Two more weeks to go. We had quite an interesting time with corporations. Certain concepts were very alien to the students. You really must wonder how Congress dreams up these ways to penalize businesses – and why. Students are still passing Part 1 – and coming back with funny stories. And yes, it turns out that TaxMama's advice about what to do before the exam to shed the stress and fear really does work! 
www.irsexams.com
Yup. You can get a 10% discount on the EA Class if you register for TaxMama's Family first.
https://taxmama.wpengine.com/membership/family-membership/
The discount code can be found in the Family Look-Ups resource.
https://taxmama.wpengine.com/family-member-resources/
Upcoming Events
August 13, 2010 10:00 – noon PT
Taxes for Writers, Bloggers and Journalists
If you're earning money from your website, your articles or your blog, you must take this class.
https://taxmama.wpengine.com/business/web-workshop-for-writers/
August 19, 2010 at 8:00 am – 9:00 am PT
The next Tax Roundtable is next month. Will you be joining us?
At the last meeting – we covered a lot topics – you can tune in, the replay is here:
https://taxmama.wpengine.com/category/tax-roundtables/
Just scroll down to July's event.
Upcoming on CPE LINK – with CPE for CPAs, EAs, and more
https://taxmama.wpengine.com/earn-cpe-without-leaving-the-office/
September 1 at 12:00pm PT
Doing Tax Research Online for Free
Identify reliable sources of tax information,
how to use them and understand them.
September 15 at 10:00 PT –
Roger B. Adams, EA (with minor assist from TaxMama)
Understanding Tax Treaties
Learn the fundamental principles of the purpose and application of tax treaties. Why should you care? Because there are over five million Americans living outside of the U.S., over two million of whom live in the Western hemisphere (principally in Canada and Mexico).
SELF-STUDY at CPE LINK:
Homebuyers Credits for Tax Professionals
The specific laws related to your clients.
How to get it rigth the first time. What to watch out for.
And how to overcome IRS Rejections.
Note: Some CPAs might still be able to get in a beta test of the self-study class – no charge. Hurry, only a few beta spots left!
https://www.cpelink.com/product/detail.php?p=2175
Other TaxMama News:
At Equifax this week, you learn whether your new hires qualify you for the new HIRE tax credits; Dan Solin teaches you about Whole Life Insurance (a sensible insurance alternative, as far as I am concerned); Ilyce Glink explains about HAMP – the new Home Affordable Modification Program and how it can affect you; Linda Rey gives you the Facts about Umbrella Policies; and Janet Dedrick from the Equifax Credit team reveals how Super-Prime consumers tap home equity lines of credit and credit cards not available to most. 
https://www.equifax.com/blog/tax/en_ff
Have you tried out the really nifty tool I showed you in the AccountingWeb.com blog? You get to see how your tax liability would look under three different tax plans.
https://www.accountingweb.com/blogs/accountingweb/talk-taxmama
In Money Funnies and Inspiration this week, we are inspired by a story about the humanity children are capable of exhibiting.  
https://taxmama.wpengine.com/category/asktaxmama/money-funnies/
In IRS News, we learn about the IRS's announcement to remove the debt indicator from electronically filed tax returns. And TaxMama's delighted response to the idea!
https://taxmama.wpengine.com/category/asktaxmama/irs-news/
In TaxQuips this week we get some of the best questions and challenges ever! We start the week with Mike asking how to set up a tuition assistance program for his employer's company! George asks an interesting question about IRS mortgage interest deductions on millionaires. Taylor needs help to sort out home ownership and mortgage interest deductions when the kids have no credit of their own. We end the week with Dennis who is treasurer of a non-profit that has kids raise money for their own trips on a quota basis. 
https://taxmama.wpengine.com/category/tax-quips/
Do you know if and when you have to file a tax return? The TaxQueries blog can help you with that!
https://blog.taxqueries.com/
As always, we love your feedback, opinions and ideas.
You are what makes all this fun – and interesting!
Please use the Comments link online.
https://taxmama.wpengine.com/asktaxmama/ask-taxmama-issue-563
TaxNerd gear makes a bold statement year-round.
It helps attract the opposite sex!
Shop at www.taxnerd.net or https://www.zazzle.com/taxmama*
Hugs from your favorite TaxNerd,
https://www.zazzle.com/taxmama*
Eva Rosenberg, EA
Your TaxMama®  is watching…out for you.
www.TaxMama.com
www.snurl.com/homebiz-tax
www.TaxMama.com/TaxQuips
www.IRSExams.com
www.TaxNerd.net
==============================
—————————————–
TAX CALENDAR
https://taxmama.wpengine.com/tax-calendar-2010/
—————————————–      
08/16/2010 Employers Make Monthly Payroll tax deposit on the 15th of each month
08/31/2010 Time for businesses to consider setting up retirement plans
—————————————–
From TaxMama® to You!
—————————————–
Follow TaxMama®'s Tweets – https://twitter.com/TaxMama
You are invited to put a TaxQuips Widget on your phone, social networking page, website, or… You'll get the TaxQuips as soon as they published – long before they are distributed in by e-mail. It's a nifty gadget. Just pick up the code and paste into your site or application.
https://www.widgetbox.com/widget/taxmamas-taxquips-daily-tax-podcasts
Download TaxMama's 2010 iphone Tax Calendar. My gift to you.
https://snurl.com/taxcalendar
Never miss a tax deadline again!
The customizable tax calendar is here.
Add or Remove dates. Add your own reminders – get alerts.
https://snurl.com/itaxmamapro
—————————————–
SPECIAL DEALS
—————————————–
===> Do it Yourself Legal Material
NOLO is offering 40% off during their Annual eBook Sale through June 1, 2010.
Use coupon code is A123 for an additional 10% off any product.
https://www.nolo.com/legal-encyclopedia/family-law-divorce/?img=17&kbid=1453
(disclosure – TaxMama receives a commission)
===> Need a Corp, LLC, Registered Agent
 
Incorp Services Inc. in Nevada – DISCOUNT
20% off on formation services.
Similar discounts on Registered Agent services.
Call 800.2.INCORP – use coupon code – TAXMAMA
https://vurl.bz/taxmama/Incorp – no coupon needed
===> Business Uniforms – 3 Choices:
Zazzle   –   Cafe Press  – Queensboro
===> Use your art or others – and customize it
Great for promotions – and to gear up for tax season!
Zazzle your Imagination.  Are you a TaxNerd?
Tell everyone – proudly!
https://www.zazzle.com/taxmama*
Create your own customized Calendar at Zazzle
https://www.kqzyfj.com/click-241922-10414512
Get volume discounts on orders of 2 or more.
Get extra discounts for yourself and friends after you order.
===> Stuff for Pets and Pregnant Moms
Cafe Press is the home of TaxMama® 's shops
https://www.cafepress.com/taxmama
You can upload your own art and graphics
https://www.jdoqocy.com/click-241922-10463747
Get extra discounts for yourself and friends after you order.
===>WOW! Embroidered Logo on ANYTHING – on sale!
Always a sale at the Queensboro Shirt Company
https://www.queensboro.com/index.html?ref_id=632192
(They have clothes and novelties – and all sizes)
They do a gorgeous job.
—————————————–
EA EXAM NEWS & SOLVING THE TAX PUZZLE
—————————————–
Take TaxMama®'s 2010 EA Exam Review Class
https://irsexams.com/ 
Class is going strong.
Part 2 is going strong.
This weekend we cover Corporations and quiz everyone intensely.
Tax Professional and author Wayne Davis ( www.yousaveontaxes.com ) just passed Part I of the exam.
He says 'I could go on and on about all the valuable info and "insider tips" that you have provided in the class lectures."
– sign up now – and join the FUN!
https://irsexams.com/registration/
A flood of Tax Professionals are interested in
taking the EA Exam. We still have a few handy
dandy totes to hold all your books, notes and discs.
https://irsexams.com/registration/
Read the ebook –  Everything You Wanted to Know About the EA Exam
https://taxmama.wpengine.com/free-member-resources/
=== CPA Exam Review
Looking for a great course?
You can't do any better than this!
Phil Yaeger's CPA Exam Review Course
https://www.yaegercpareview.com/