Dear Family,
Each week, I try to find an interesting graphic for the issue, and a related link. Have you ever clicked on the graphic at the top of an Ask TaxMama issue. You'll find treasures there. For instance, this week, we feature the 1950s TV series Sky King. It started before I was born. But imagine a young girl watching this show waaaay back then and seeing the teenage character, Penny, being independent, flying an airplane and fighting bad guys. Gloria Winters played one of the more interesting and less ditzy, female characters in television in those days. She was a rare, positive female role model – one that wasn't a teacher always in trouble (Eve Arden, in Our Miss Brooks) or wife (Mary Tyler Moore or Lucille Ball), or a cute, but helpless nut (Gracie Allen). Oh, don't get me wrong. I loved watching those women. They were funny and smart. But their characters – well, imagine if you behaved the way they did in real life. Even as a child, I used to cringe watching Lucy getting into all that trouble.
Of course, these days, we have lots of strong, smart women who've broken through the class ceiling – Hilary Clinton, Barbara Walters, Oprah Winfrey. In fact 15 women are running Fortune 500 companies. Considering that women comprise at least 50% of the human population, isn't it fabulous to see that they make up 3% of the nation's corporate leadership? Never mind. It's a start.
Speaking of smart, strong women, Suzan Ali, EA just sent me this article about how you can avoid foreclosure on your home. It's a trick we talked about a year or two ago. But here is more detail. You'll like this!
Incidentally, get to know this tax professional. Suzan is smart, enthusiastic, energetic – and is about to build a really successful tax practice. I had the privilege of meeting her and spending time with Suzan at the IRS Tax Forums this summer. We had such fun! You will be seeing more of this amazing dynamo in the next few years.
Two pieces of great news this week. One – IRS is holding an Open House this weekend to help certain folks resolve tax problems. See IRS News for more details.
Two –  Congress has passed The Small Business Jobs Act of 2010. I haven't read all the details yet. You will find the highlights in this week's IRS News, including a link to the new law – so you can read it yourself. One good thing that finally emerged from this is that cell phones are finally been removed from "Listed Property." It's something I've been predicting would happen. Hooray!
Celebration? Hallelujah! I have finally finished editing the second edition of Small Business Taxes Made Easy! It will be released in December. The book really is terrific and immensely helpful. I've built in a To Do list with every chapter – and will be building a site where readers can access and customize those lists for your own use. This is one of those books you're going to want to carry around with you, make notes in about ideas for your own business and for discussions with your tax professional – and for day-to-day operations and planning. (The publisher just told me that they are giving me a very special pre-publication price for anyone who wants to pre-order books in batches of 25. If you are interested, send me a note and tell me how many you want for your friends, clients, or classes. I need to submit the information to McGraw-Hill by the end of this month so they can add this to their print run.
One of the big scandals of the week was the arrest of the City of Bell's government and administration team. It seems the court is reluctant to allow them to post bail since the court believes the money they would use is money taken illegally from the City. That's a new and refreshing twist. At our CSEA Breakfast meeting this week, Doug was asking about the tax applications. How would these culprits (alleged nothing!) handle the tax issues of having to repay the money? My question is – is there any money with which to repay the City of Bell, or has it been squandered or moved offshore? My other big question is – can the State and the Courts cancel their pensions? It's one thing to have stolen several million dollars from their residents; but imagine the injury if the City of Bell and the State of California has to keep funding pensions, some of which are half a million dollars each year?
Last week TaxMama's RoundTable discussion got quite lively and interesting. You can watch the replay online, just as if you'd been there. We discussed how to create a balance sheet when a business has no books, answered a batch of questions about s corporations, dealt with what to do when a corporation did not do a payroll for the officer when it should have…and lots more.
https://taxmama.wpengine.com/category/tax-roundtables/
EA Class News
We had two terrific classes ever this week – Audit Workpapers, and Appeals. It's always nice when you can include real life information and play with it, isn't it?
Catch the FALL SPECIAL price – Part 3 live and Self-Study on Parts 1 and 2
https://irsexams.com/registration/
Remember, you can get a 10% discount on the EA Class if you register for TaxMama's Family first.  The discount code can be found in the Family Look-Ups resource.
Upcoming Events
Upcoming on CPE LINK – with CPE for CPAs, EAs, and more
Pick up the International Tax: Value Bundle – Roger B. Adams, EA (with minor assist from TaxMama)
October 6 – Understanding Tax Treaties
Learn the fundamental principles of the purpose and application of tax treaties. Why should you care? Because there are over five million Americans living outside of the U.S., over two million of whom live in the Western hemisphere (principally in Canada and Mexico).
November 11 – The Alien in America
Here in the U.S. we are surrounded by Aliens. There are very few aspects of US taxation with more complex rules, procedures, forms, and instructions than that concerning the alien with American presence. This webcast will provide a basic framework of dealing with the principle and most common circumstances that tax professionals will encounter.
October 8 –  Eva Rosenberg, EA, Tom Buck, CPA and Sonya Wilt, EA
IRS Practice Series: 10 Steps to Resolving Collection Issues
You're going to learn how to help your clients set up installment agreements, how to use the various types of offers in compromise, and even how to suspend collections!
We have FOUR classes coming up in November, including
November 9 – Doing Tax Research Online for Free – Eva Rosenberg, EA
November 17 – Getting Ready for Tax Season – Eva Rosenberg, EA
Preview the Series on YouTube
The IRS Practice Series
Team taught with Eva Rosenberg, EA, Tom Buck, CPA and Sonya Wilt, EA
Oct 8, 9:00am – 10 Steps to Resolving Collection Issues
Nov 1, 10:00am – Hands-on Collections Workshop
Dec 7, 10:00am – 6 Simple Steps to an Offer-in-Compromise (form 656)
Dec 10, 9:00am – The Un-agreed Collection Alternatives and Appeals
https://www.cpelink.com/teamtaxmama
SELF-STUDY at CPE LINK:
==>Homebuyers Credits for Tax Professionals
The specific laws related to your clients.  How to get it right the first time. What to watch out for.
And how to overcome IRS Rejections.
==>IRS Practice Series: Overview of Collection Issues – Price = ZERO:
This on-demand webcast provides a broad overview of the collections process. From preparing the Power of Attorney – IRS Form 4868, to freezing the collection activity, to Offers-in-Compromise and Appeals, the course will explore the numerous collection issues a practitioner may encounter and lay the ground work for the IRS Practice Series. Topics will be covered in more detail in the dozen courses of The IRS Practice Series – leading to a Tax Mediary (CTM) Certificate upon completion of the series.
Resources
https://www.cpelink.com/teamtaxmama
Other TaxMama News:
At Equifax this week, you learn about the Estate Tax Update: How the Estate Tax Will Affect You. ,. Ilyce Glink answers your question – Renting vs. Owning Property: How to Make the Call? Linda Rey talks about Insuring Teenage Drivers and Earning Teen Driver Discounts. Dan Solin admonishes us to Avoid Exchange-Traded Funds (ETFs) as Part of Your Investment Strategy.  The Equifax Experts tell you 13 Ways Your Credit Card Account May Have Changed.
https://www.equifax.com/blog/tax/en_ff
This week's AccountingWeb.com blog muses over things that go wrong in audits – and challenges you to come up with the most satisfying way to make IRS aware of the client's unhappiness with the way the audit was handled. Do you know how to do that? Post your ideas – and TaxMama will post THE excellent solution next week.
https://www.accountingweb.com/blogs/accountingweb/talk-taxmama
In IRS News this week, we learn about the Small Business Jobs Act of 2010 and how it will affect your taxes this very year. For the most part, good things have just come your way! IRS is holding a special Open House this weekend for Veterans, the Disabled and Non-Profit Organizations. And at the very last minute, we received the text of IRS Commissioner Doug Shulman's speech to the American Bar Association. Why the American Bar Association is meeting in Toronto, Canada, I don't know. And why the IRS Commissioner went to Canada is a mystery to me, too. Perhaps we can solve it by reading the speech.
https://taxmama.wpengine.com/category/asktaxmama/irs-news/
Money Funnies this week is all about economic progress.
https://taxmama.wpengine.com/category/asktaxmama/money-funnies/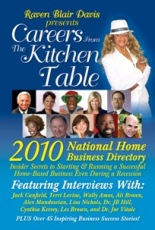 In TaxQuips this week we talked about making a living from home using some of the ideas presented in Raven Blair Davis' Careers from the Kitchen Table. Family Members can find a copy in the Quick Look-Ups Resource area.  Everyone else may buy this book here. Use coupon code raven25 to get a 25% discount until Monday. We also learn that there really are people who make a living as Mystery Shoppers. In fact, Brad gives up access to his ebook on the topic – as a gift. We discuss bogus credit card charges and some of your experiences. And what do when your ex-spouse has filed a tax return and forged your signature or PIN.  https://taxmama.wpengine.com/category/tax-quips/
Do you know how to file a tax return when you live in two or more states?
https://blog.taxqueries.com
As always, we love your feedback, opinions and ideas.
You are what makes all this fun – and interesting!
Please use the Comments link online.
https://taxmama.wpengine.com/asktaxmama/ask-taxmama-issue-569
TaxNerd gear makes a bold statement year-round.
It helps attract the opposite sex!
Shop at www.taxnerd.net or https://www.zazzle.com/taxmama*
Hugs from your favorite TaxNerd,
https://www.zazzle.com/taxmama*
Eva Rosenberg, EA
Your TaxMama®  is watching…out for you.
www.TaxMama.com
www.snurl.com/homebiz-tax
www.TaxMama.com/TaxQuips
www.IRSExams.com
www.TaxNerd.net
==============================
—————————————–
TAX CALENDAR
https://taxmama.wpengine.com/tax-calendar-2010/
—————————————–
09/15/2010 Partnership Returns Due- FINAL DEADLINE
09/15/2010 Corporate Returns Due- FINAL DEADLINE
09/15/2010 S Corporate Returns Due- FINAL DEADLINE
09/15/2010 Estate & Trusts Returns – Final Deadline; Bankruptcy fillings use the same form
09/15/2010 Individuals, Farmers & Fishermen Pay 3rd Quarter Estimated Tax Payment
09/15/2010 Corporations – 3rd Quarter Estimate Tax payment Due
09/15/2010 Estates & Trusts 3rd Estimated Tax Payment
09/15/2010 Deadline for Corporations and Partnerships to fund SEP-IRAs for previous year.
09/30/2010 Last day to establish SIMPLE plans for current year
09/30/2010 Time for businesses to consider setting up retirement plans
10/15/2010 Net Operating Loss – Eligible Small Business carry back loss
10/15/2010 Personal Returns – FINAL DEADLINE
—————————————–
From TaxMama® to You!
—————————————–
Follow TaxMama®'s Tweets – https://twitter.com/TaxMama
You are invited to put a TaxQuips Widget on your phone, social networking page, website, or… You'll get the TaxQuips as soon as they published – long before they are distributed in by e-mail. It's a nifty gadget. Just pick up the code and paste into your site or application.
https://www.widgetbox.com/widget/taxmamas-taxquips-daily-tax-podcasts
Download TaxMama's 2010 iphone Tax Calendar. My gift to you.
https://snurl.com/taxcalendar
Never miss a tax deadline again!
The customizable tax calendar is here.
Add or Remove dates. Add your own reminders – get alerts.
https://snurl.com/itaxmamapro
—————————————–
SPECIAL DEALS
—————————————–
===> Do it Yourself Legal Material
NOLO is offering 40% off during their Annual eBook Sale through June 1, 2010.
Use coupon code is A123 for an additional 10% off any product.
https://www.nolo.com/legal-encyclopedia/family-law-divorce/?img=17&kbid=1453
(disclosure – TaxMama receives a commission)
===> Need a Corp, LLC, Registered Agent
Incorp Services Inc. in Nevada – DISCOUNT
20% off on formation services.
Similar discounts on Registered Agent services.
Call 800.2.INCORP – use coupon code – TAXMAMA
https://vurl.bz/taxmama/Incorp – no coupon needed
===> Business Uniforms – 3 Choices:
Zazzle   –   Cafe Press  – Queensboro
===> Use your art or others – and customize it
Great for promotions – and to gear up for tax season!
Zazzle your Imagination.  Are you a TaxNerd?
Tell everyone – proudly!
https://www.zazzle.com/taxmama*
Create your own customized Calendar at Zazzle
https://www.kqzyfj.com/click-241922-10414512
Get volume discounts on orders of 2 or more.
Get extra discounts for yourself and friends after you order.
===> Stuff for Pets and Pregnant Moms
Cafe Press is the home of TaxMama® 's shops
https://www.cafepress.com/taxmama
You can upload your own art and graphics
https://www.jdoqocy.com/click-241922-10463747
Get extra discounts for yourself and friends after you order.
===>WOW! Embroidered Logo on ANYTHING – on sale!
Always a sale at the Queensboro Shirt Company
https://www.queensboro.com/index.html?ref_id=632192
(They have clothes and novelties – and all sizes)
They do a gorgeous job.
—————————————–
EA EXAM NEWS & SOLVING THE TAX PUZZLE
—————————————–
Take TaxMama®'s 2010 EA Exam Review Class
https://irsexams.com/
Class is going strong.
Part 2 is going strong.
This weekend we cover Corporations and quiz everyone intensely.
Tax Professional and author Wayne Davis ( www.yousaveontaxes.com ) just passed Part I of the exam.
He says 'I could go on and on about all the valuable info and "insider tips" that you have provided in the class lectures."
– sign up now – and join the FUN!
https://irsexams.com/registration/
A flood of Tax Professionals are interested in
taking the EA Exam. We still have a few handy
dandy totes to hold all your books, notes and discs.
https://irsexams.com/registration/
Read the ebook –  Everything You Wanted to Know About the EA Exam
https://taxmama.wpengine.com/free-member-resources/
=== CPA Exam Review
Looking for a great course?
You can't do any better than this!
Phil Yaeger's CPA Exam Review Course
https://www.yaegercpareview.com/